Eastleigh Labour has been consistent on our opposition to this. Environmental costs do not outweigh the benefits. Why should local people have to suffer unclean air, traffic and noise pollution to line shareholder profits in London?
By the way, I hear there is an election coming up…
Interesting points on the shorter runway:
Very valid. Economic opportunity centres around innovation not commoditisation.
After 14 hours, the airport planning meeting gave no result. Meeting to continue today at 6pm, here's the report:
I found these surprising:
Comments Received During First Consultation, November 2019 (Concluded 16/01/20)
Number of representations received:
Object – 617
Support – 272
Comment - 28
Comments Received During Second Consultation, July 2020 (Concluded 21/09/20)
(Only comments not previously expressed reported)
Number of representations received:
Objection - 1,483
Support - 2,942
Comment - 54
Comments Received During Third Consultation, Oct 2020 (Concluded 15/11/20)
(Only comments not previously expressed reported)
Number of representations received:
Objectors – 444
Supporters – 1035
Comments Received During Fourth Consultation, January 2021 (Concluded 05/03/21)
(Only comments not previously expressed reported)
Number of representations received:
Objectors – 422
Page | 32
Supporters – 256
Comments – 12
Introduction
Speakers in Opposition
Speakers in Support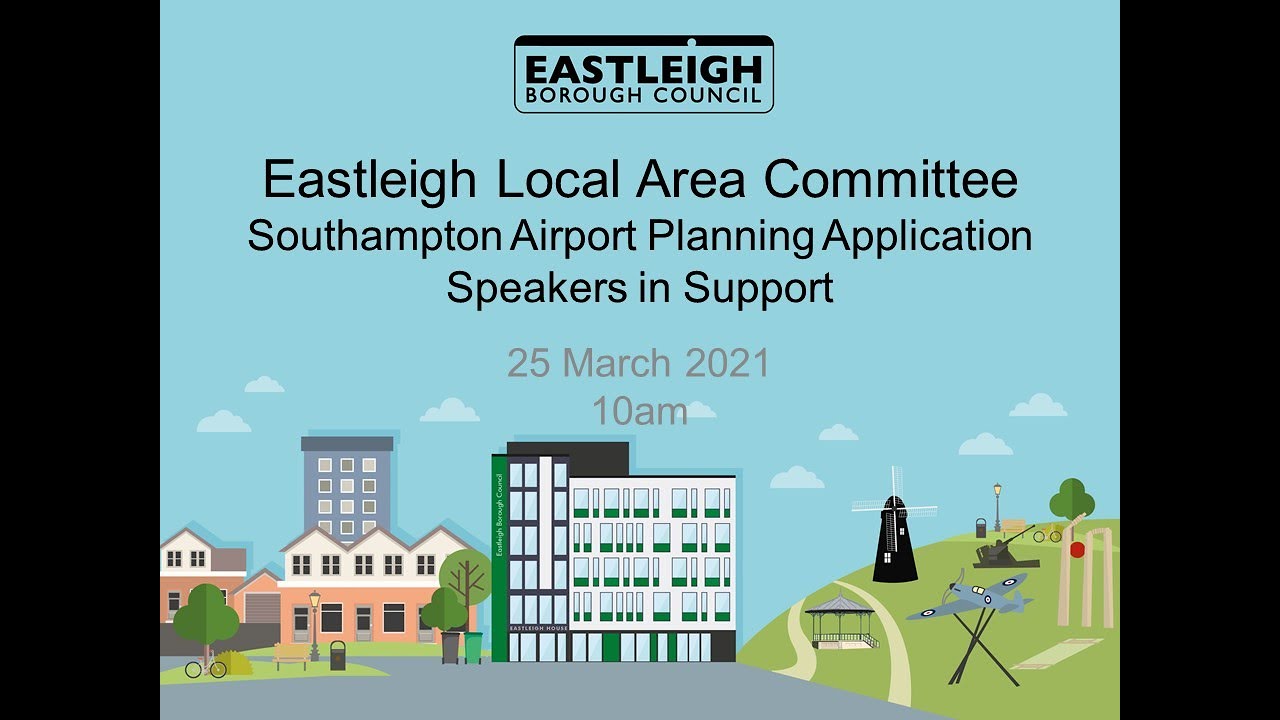 Questions and Debate
Debate and Decision
Jolly good show!
Is it me or is there a lot of misinformation going around about the airport runway expansion?
I see a lot of misleading quotes/comments like the following on social media:
"If you don't want houses there, the airport has to go ahead"
"If you want more jobs, the airport has to go ahead".
"People moved near an airport anyway so they have to expect planes"
"It'll be fine if they do chickenhall link road".
But this doesn't tally up with what the evidence in the reports shows from what I read/hear.
Noise level will be up, and >30,000 people that weren't impacted by noise will start to be.
Traffic on already overloaded roads will go up.
There will be no burst of jobs, there is only expected to be Eastleigh jobs during the construction phase, afterward none.
There will be no road improvements with this.
There would be no cap on maximum traffic like other airports have.
Pollution would go up and Eastleigh already has some poor air quality areas. This seems to be under-looked as far as I can see?
Air Pollution in Eastleigh
Take a look at Defra, https://uk-air.defra.gov.uk/
Some areas of Eastleigh are currently in band 3. While this looks green, planes aren't currently flying very much and the next band 4 is amber and has slightly more alerting words like "Adults and children with lung problems, and adults with heart problems, who experience symptoms, should consider reducing strenuous physical activity, particularly outdoors."
I think I'd prefer the green to get greener, nor redder, wouldn't you?
Thanks to the brave councillors who stood up against seemingly many voices in Eastleigh to do the right thing for the future of our children, and stand up to climate change. I for one am very appreciative (and I do love the airport, and I do like to fly…).
No idea! It's hard to be objective because I vaguely remember that in pre-Covid times I much preferred flying from Southampton than the alternatives. I'm definitely glad I don't live under the flightpath anymore though and I agree with @afdy that some of the arguments seem quite weak. It also seems wrong that people directly effected in neighbouring councils have no direct say, but then we have form when it comes to excluding people from decisions which affect them. What's your view @Sam4eastleigh?
For me personally, I want to see a fair and transparent process. That's the key thing. The Spitfire anniversary flight will likely be ended (which is sad in my opinion) if it goes ahead.
Taking into account feelings of residents impacted should be the utmost priority. It must be fair and transparent.
One thing I would say is this; what kind of business looks to expand without a pipeline of new opportunities, a strong business justification to invest and revenue stream entirely focused on a single activity?
Agnostic of which way it goes, that airport is in trouble because of the way it's run. If I was a shareholder, I'd be extremely worried about a 'build it and they will come model' in these turbulent times.
Still, that's why I'm in telecommunications
Many thanks for this useful information - I was wondering what the figures were after reading many social media posts stating that 'everybody in Eastleigh supports the extension' - now we know what the actual numbers are.
Unfortunately the numbers in the report may not be representative. They're a self selecting group of people who have been motivated enough to contribute to the planning process. You'd need a properly run opinion poll to get a better idea. Or a local referendum
The problem is on top of that though, is that most people a have an opinion either way on this, but it is biased based on misinformation and not truth from what I can read.
At least the people that officially fed-back to the planning team took the effort to do so and not just a quick comment on Facebook after some assumptions based on what they read on Facebook.
The airport extension got a mention on Radio 4 yesterday. About 1:23:45 through…
What's your thoughts on the Lib Dem civil war, James?
Tina Campbell out, Tyson Payne out. Bicknell promoted.
Seems like business as usual rather than civil war but it does reinforce my view of political parties, whichever colour rosette they wear
Interesting airport opposition website over here I just stumbled on.
I hadn't clocked before that a the db noise scale is logarithmic, and that a 10db increase in sound is double!
Worth a watch, Cllr Tina Campbell has raised some serious concerns on the airport planning process, and it being rushed through.