This post is part of a community led project to archive all local political leaflets to improve transparency and enable local discussion. See more

Hit the blue reply button if you have feedback. If you have a local political leaflet not currently listed, post it or take a clear picture of each page and email it to politics@eastleigh.online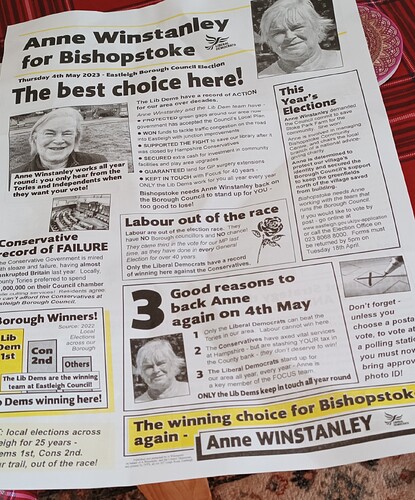 Anne Winstanley for Bishopstoke
Thursday 4th May 2023 - Eastleigh Borough Council Election
The best choice here!
Anne Winstanley works all year round: you only hear from the Tories and Independents when they want your vote!
Conservative record of FAILURE
The Conservative Government is mired with sleaze and failure, having almost bankrupted Britain last year. Locally, County Tories preferred to spend 1,000,000 on their Council chamber while cutting services! Residents agree: we can't afford the Conservatives at Eastleigh Borough Council.
Borough Winners!
Source: 2022 Local Elections across our Borough
Lib Dem 1st
Con 2nd
Others
The Lib Dems are the winning team at Eastleigh Council!
Lib Dems winning here!
FACT: local elections across Eastleigh for 25 years -
Lib Dems 1st, Cons 2nd. Labour trail, out of the race!
The Lib Dems have a record of ACTION for our area over decades. Anne Winstanley and the Lib Dem team have -
• PROTECTED green gaps around our area now government has accepted the Council's Local Plan
• WON funds to tackle traffic congestion on the road into Eastleigh with junction improvements
• SUPPORTED THE FIGHT to save our library after it was closed by Hampshire Conservatives
SECURED extra cash for investment in community facilities and play area upgrades
GUARANTEED land for GP surgery extensions
KEPT IN TOUCH with Focus for 40 years - ONLY the Lib Dems work for you all year every year
Bishopstoke needs Anne Winstanley back on the Borough Council to stand up for YOU - too good to lose!
This Year's Elections
Anne Winstanley demanded the Council commit to save Stoke Park Farm for the community. She won!
Anne is involved in managing Bishopstoke Community Centre, and chairs the local branch of a national advice-giving charity.
Anne is determined to protect our village's identity and secured the Borough Council's support to keep the greenfields north of the village saved from building. Bishopstoke needs Anne working with the team that runs the Borough Council.
Labour out of the race
Labour are out of the election race. They have NO Borough councillors and NO chance!
They came third in the vote for our MP last time, as they have done in every General Election for over 40 years.
Only the Liberal Democrats have a record of winning here against the Conservatives.
If you would like to vote by post, go online at www.eastleigh.gov.uk/pv-application or call the Election Office on 023 8068 8000. Forms must be returned by 5pm on Tuesday 18th April.
3 Good reasons to back Anne again on 4th May
1 Only the Liberal Democrats can beat the Tories in our area. Labour cannot win here.
2 The Conservatives have axed vital services at Hampshire - but are stashing YOUR tax in the County bank - they don't deserve to win!
3 The Liberal Democrats stand up for our area all year, every year - Anne is a key member of the FOCUS team.
ONLY the Lib Dems keep in touch all year round
Don't forget - unless you choose a postal vote, to vote at a polling station, you must now bring approved photo ID!
The winning choice for Bishopstoke again - Anne WINSTANLEY
ACTION from the Lib Dem team for Bishopstoke & Fair Oak
The other parties only turn up at election time when they want your vote, so can you really trust them to work for you? The Lib Dems are here all year round. Every year. Doing the job.
A record of ACTION for our Borough
Stable finances and reserves over 29 years
Borough Council Tax reduced in real terms for 20 years running
Local Plan in place to safeguard countryside gaps
£8million boost for affordable housing and "rent to buy"
160,000 new trees agreed
Active support for our NHS for future local medical facilities
Backing for our town and local centres and local shops
Improved Leisure Centres Ongoing support for Ukrainian and Afghan refugees
Airport saved & Freeport agreed
Best record in Hampshire over 20 years on recycling
Renewable energy generation
Commercial income to protect YOUR local services
…and a promise of more!
Stoke Park Farm SAVED for the community thanks to Anne Winstanley's demand and ACTION from the Lib Dem Council. On YOUR side!
ONLY the Lib Dems Keep in Touch! Local residents only see the Tories and Independents when they want your vote. The Lib Dems are here all year, every year, keeping in touch with FOCUS. The others don't deserve your vote!
Eastleigh Wins!
apse SERVICE AWARDS 2022
COUNCIL OF THE YEAR 2022 -WINNER
Lib Dem Eastleigh Borough Council won the 2022 national "Council of the Year" run by the Association for Public Service Excellence. It's the local government version of the Oscars. You don't even have to take our word for it!
Investment Strategy that Saves YOU Cash AND Protects Services
How is it possible for Eastleigh's Lib Dems to cut council tax in real terms every year for 20 years, yet protect services? Good financial management! Even after the Conservative Government's disastrous mismanagement of the economy with record interest ates and 18% food inflation Eastleigh's investments still produce extra income to the Council of £5million each year. That's over £100 saved every year for a typical council tax payer.
The Council's financial investment strategy, creating jobs along the way, works just like a typical home mortgage, being paid off over time and creating long-term value. Eastleigh's secure investments give YOU security AND keep YOUR Council Tax down.
3 Things to Remember about this election -
The Liberal Democrats have kept their promises. The Borough's Council Tax cut in real terms again and services protected from cuts.
Labour are out of the race. They have not elected any councillors at Eastleigh Borough Council for more than 15 years!
The Conservatives are cutting vital services at the County Council through choice. They don't deserve your vote!
Council Tax Guarantee
The Lib Dems at Eastleigh have cut the Borough's part of Council Tax in real terms for 20 YEARS running real action to tackle the rising cost of living and protect your pocket. Our Guarantee runs into the future to protect YOUR pocket.
Hampshire's Conservatives have hiked the County Tax by 40% in just eight years and cut services. We can't afford the Conservatives running Eastleigh!
A Solution for Bishopstoke Road?
The decision to save the airport and back the Freeport was controversial with some, but our Lib Dem Council's leadership on these issues now paves the way for the first phase of the long- delayed Eastleigh Relief Road (the "Chickenhall Lane Link Road"). This is the only way we will ever get a solution to long delays getting in to Eastleigh. Our area needs Anne Winstanley back on the Council to work WITH the team leading the Council to help secure this vital infrastructure for our area.