This post is part of a community led project to archive all local political leaflets to improve transparency and enable local discussion. See more

Hit the blue reply button if you have feedback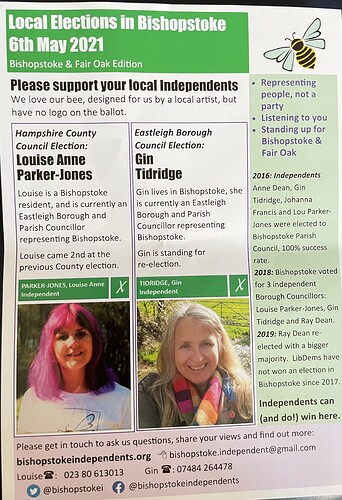 Local Elections in Bishopstoke 6th May 2021
Bishopstoke & Fair Oak Edition
Please support your local independents
We love our bee, designed for us by a local artist, but have no logo on the ballot.
Hampshire County Council Election: Louise Anne Parker Jones
Louise is a Bishopstoke resident, and is currently an Eastleigh Borough and Parish Councillor representing Bishopstoke.
Louise came 2nd at the previous County election.
Eastleigh Borough Council Election: Gin Tidridge
Gin lives in Bishopstoke, she is currently an Eastleigh Borough and Parish Councillor representing Bishopstoke.
Gin is standing for re-election. 07484 264478
Representing people, not a party
Listening to you
Standing up for Bishopstoke and Fair Oak
Bishopstoke Parish Council: elections in 3 of 5 wards
Itchen Ward (BI5)
Independent group: Sue Lynch and Ralph Candy. 02380 647841
Riverside Ward (BI2)
Independent group: David Francis and Louise Hillier-Wheal
Dave: 02380 617308
Louise: 07543 812196
Whalesmead Ward (BI4)
Independent group: Louise Anne Parker-Jones
2016: Independents:
Anne Dean, Gin Tidridge, Johanna Francis and Lou Parker Jones were elected to Bishopstoke Parish Council, 100% success rate.
2018
Bishopstoke voted for 3 independent Borough Councillors: Louise Parker-Jones, Gin Tidridge and Ray Dean.
2019
Ray Dean re-elected with bigger majority. LibDems have not won an election in Bishopstoke since 2017.
Independents can and do win here
Independent success some examples:
Protecting our environment: Supported local people to successfully challenge the inadequacies of evidence for 5000+ properties proposed for north Bishopstoke & Fair Oak. Funding for improvements at Hardings Lane, Stoke Park Woods entrance and 'The Planney'.
Improvements to community assets: Protecetion for 'Bishy Beach', funding for the memorial Hall, funding for Fair Oak Community Library.
Safer travelling: Campaigning for safer school crossings, walking routes and investing in speed reminder cameras.
We all live locally so our priorities are not dictated by Party Politics
Please get in touch to ask us questions, share your views and find out more:
https://bishopstokeindependents.org bishopstoke.independent@gmail.com
Louise: 02380 613013 Gin: 07484 264478